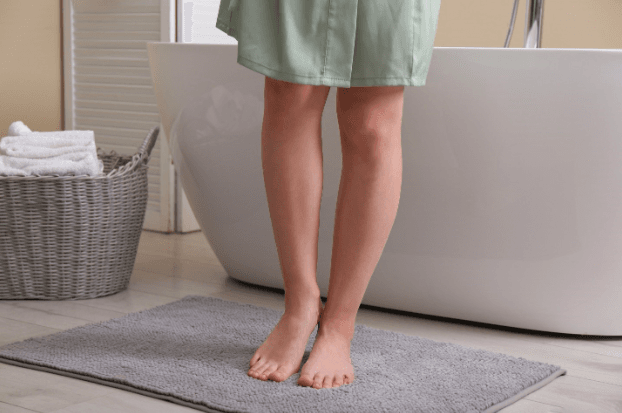 Our bathrooms see a lot! From showers and baths to stomach bugs and daily business, one could say the bathroom is the workhorse of a home. And all that dirt, bacteria, and grime must go somewhere.  
Sure, most of it gets flushed or washed away, but an awful lot gets left behind on the items we use every day. And if you're not replacing these items regularly, you're simply spreading germs, bacteria, and grime around.  
We've rounded up 9 items that require regular replacement, along with a helpful timeline so you know how long to go before getting new ones. 
1. Loofahs, Poufs, and Bath Sponges 
All loofahs, bath sponges, poufs, and washcloths need to be replaced regularly. Washcloths should be replaced daily while other body scrubbers should be replaced as follows:  
Synthetic loofah: 2 to 3 months 

Natural loofah: 3 to 4 weeks 
Synthetic sponge: 4 to 6 weeks 

Natural sea sponge: 3 to 4 weeks 

Nylon pouf: 3 to 4 weeks 
2. Bathmat 
Your plush, absorbent bathmat may keep the floor outside your tub dry, but it can get grimy pretty fast. Single and two-person households can use the same bathmat for a week at the most while larger families should change them out every two days to reduce the risk of bacterial and fungal issues. Get a brand-new one every 2 years or sooner if you notice tears, odors, or a loss of grip. 
3. Suction Mat 
Scrub each side of your suction mat down each time you clean your tub or shower, and let it air dry between uses. Get a replacement mat every few years, or anytime it becomes torn or loses its suction. 
4. Toilet Brush 
When was the last time you cleaned your toilet brush? If you're embarrassed to say, it's probably time. Clean it at least once a week by rinsing with clean water it and spritzing it and its holder with an antibacterial spray. Replace the toilet brush every six months, especially if the bristles are damaged. 
5. Bath Towels 
Damp towels are a breeding ground for bacteria. Hang your bath towels by spreading them out on a towel bar or over the curtain rod so that they thoroughly dry out in between uses. You can reuse the same towel three or four times before laundering. Depending on the quality of towels, replace them every 2 to 3 years or sooner if you notice holes, reduced absorbency, or a funky odor.  
6. Hand Towels 
Follow the same guidelines for hand towels as you do for bath towels except their per-use longevity. Unless you live alone, swap out your hand towel daily. 
7. Toothbrush 
The Centers for Disease Control and Prevention recommends switching out your toothbrush every 3 to 4 months, even if the bristles are still in good shape. Should you notice bent, splayed, or degrading bristles, replace the toothbrush regardless how long you've had it. 
8. Hairbrush 
The lifespan of a hairbrush varies widely and depends on how much you brush your hair, styling products used, and the health of your scalp. Deep-clean your hairbrush every month by removing any hair and cleansing it with warm water and a little shampoo or mild soap. Replace inexpensive plastic or rubber brushes every 6 to 12 months and high-quality boar-bristle brushes every 2 years. 
9. Makeup Tools 
Brushes that are used to apply powder makeup can last a week or so before needing to be cleaned, while makeup sponges and brushes used for liquid makeup should be cleaned daily. Use a gentle soap for powder brushes and a grease-fighting dish detergent for heavier liquid makeup brushes. Depending on their quality makeup applicators can last from a few months to several years. 
If your bathroom hasn't received the benefit of a plumbing facelift in a while, it might be showing signs of age. Whether it's a partial remodel or a full-blown renovation, we're here to help. In fact, we can handle all your bathroom plumbing upgrades, including faucet and sink replacement, tub to shower conversion, re-piping, comfort-height toilet installation, anti-scald shower valve installation, and so much more. Contact Blau Sudden Service today for more information about our plumbing services.