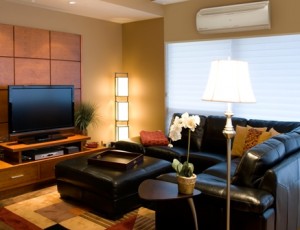 Learn how a ductless heat pump can provide more comfortable conditions and greater energy savings for your Milwaukee and Southeast Wisconsin home.
A ductless air system (heat pump) is a dual heating and cooling system that functions without the use of ducts.
Ductless systems have outside condensing units, just like central air conditioning.  But instead of pumping air into an air handler and then through forced air ducts, ductless units pump refrigerant directly to one or more wall-mounted air handlers.
Ductless systems combine the flexibility of room air conditioners with the whole house cooling of central systems. Although some systems provide heating and cooling, ductless mini-split heat pumps are usually installed primarily for cooling.
A single outdoor ductless air heat pump can serve the home comfort needs of up to four rooms.
In the Greater Milwaukee area, for example, many families live in raised ranches and other types of bi- and tri-level homes.  Here it's usually far more practical and affordable to have central air conditioning on the main living level at the same time, it can prove to be highly difficult to have that same system provide cooling or heating in the home's lower level.  Let's say, for example, that you have a family room, office, extra bedroom, and/or a bathroom on a separate level not easily reached by central air conditioning:  a perfect application for a ductless air system.
Other ideal applications include a finished attic, add-on sunroom, or any other area of your home that central air can't effectively or affordably cover.
More Features of Ductless Air Heat Pumps
Quiet operation since, by definition, there are no noisy ducts distributing the air.
Installation costs are typically lower than central air conditioning in homes with no ductwork.
Ease of maintenance.
Programmable, remote control operation for ease of operation and reduced energy costs.
Multiple aesthetic and practical installation options, as the indoor air handlers can be mounted on walls, ceilings, the floor…even inside a closet.
At Blau Sudden Service, we are home comfort experts that specialize in ductless heat pump system design, installation, and ongoing maintenance.
For a free in-home proposal and quote, contact Blau Sudden Service today.
1-800-BLAU-NOW
(414) 626-1991
Click here to ask questions or schedule service now